Coconut cookies, 1 kg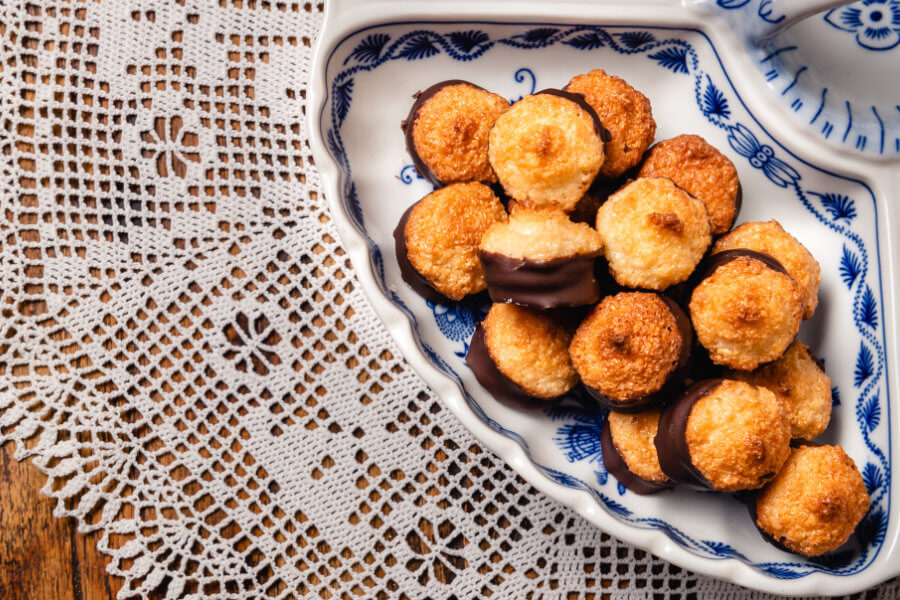 Delicious cookie with a strong taste of roasted coconut that melts in your mouth together with chocolate and homemade marmalade.

Packaging: 1 kg

Order now
Christmas cake will be available for pick-up from 1/12 till 22/12/2023
Sales price without tax
1 296 Kč
Coconut cookies, 1 kg
---
Every Christmas table includes coconut cookies, sweets with a strong taste of tender roasted coconut, which melts in the mouth together with chocolate and homemade marmalade.
Coconut is a rich source of energy, it has a very low glycemic index and does not contain gluten, it is very rich in proteins, fats and fiber.
Packaging: 1 kg
Order now
Christmas cake will be available for pick-up from 1/12 till 22/12/2023
Order 2 days in advance please
---
Ingredients: Granulated sugar, coconut, eggs, cream, cocoa, cocoa butter, butter, chocolate 70%, plain flour, apricot jam/strong>
Always fresh
We produce to order. Please order 48 hours in advance, 3 days for cakes. Thank you
Payment in advance
You can conveniently pay for your purchase in advance by card via the payment gateway.
Shipping and Pickup
We will be happy to deliver your purchase anywhere in Prague, but you can also pick it up in person.
Pick-up place:
Hotel U Prince, Old Town Square 29, Prague 1
Pick-up time:
Monday - Sunday: 10 a.m. - 7 p.m.
Prague delivery:
Monday - Sunday: 10 a.m. - 7 p.m.
Price 220 CZK.
Company: BHG Princ s.r.o., Staroměstské náměstí 460/29, 110 00 Praha 1, ID: 073 41 199, VAT-ID: CZ073 41 199